Candlelight Concerts
FAQ
TICKETS
What are the different ticket types?
Tickets range from Zone A - Zone E, with Zone A being the premium tickets in the rows closest to the stage and Zone E being the furthest from the stage.
How do I know where my seat is?
Your seat will be located within the zone you selected at the time of purchase. Once you arrive at the venue, you will be asked to show your ticket and an usher will guide you to your seating zone. Seats will be assigned on a first-come, first-served basis.
Can I buy tickets at the venue?
Tickets are not available for purchase at the venue. All tickets must be purchased through the app or website (www.feverup.com) prior to arriving at the event.
How can I buy group tickets?
If you want to buy tickets for a large group (+40 people), please fill in this form, indicating in the Message* section the name of the concert, as well as the date and time that you're interested in attending, and specifying that you wish to buy a large number of tickets for one of the concerts that is already on sale on www.feverup.com.
You can also request to book a private concert through this same form.
Can I book a ticket for my caretaker?
Guests requiring assistance throughout the experience are entitled to apply for 1 free pass for their caretaker. Once you have purchased your ticket (it is essential to hold a valid ticket before applying), please contact us for more information.
Is there an age requirement for the event?
All guests must be 8 years old or older to attend. Anyone under the age of 16 must be accompanied by an adult.
Can I sit together with friends?
Yes, you can sit with your friends if you come together, and you all have tickets for the same zone. We recommend you to arrive in good time, and we will do our best to accommodate you.
Can I transfer my tickets to another person?
Yes, you can transfer your tickets to any other Fever account at no extra cost. It's as easy as clicking "Transfer Tickets" on your ticket on the Fever app. For additional help, please feel free to contact us, indicating your ticket ID.
Where can I find my ticket?
You can find your ticket in the "Tickets" section of the Fever app (you can download it from the Apple App Store or Google Play). Please remember to log in with the same login method used to make the purchase.
You will also find your QR code in your purchase confirmation email.
VENUE INFORMATION
Where is the experience taking place?
The Bell Event Centre, located at 444 Reading Rd, Cincinnati, OH 45202. Entrance to the venue is located around the corner on Pendleton St.
How do I get to the venue?
Bell Event Centre is located across from the READING RD at PENDLETON ST bus stop. Entrance to the venue is located around the corner on Pendleton St.
Is there food served?
No, but there will be beverages available for purchase. The bar will be cash only.
Can I bring animals?
Animals are not allowed, except for service animals.
Does this venue have disability access?
Yes, there is an ADA entrance.
Is there parking available?
Yes, there is parking available at the venue.
COVID Measures
Do I have to wear a mask?
We encourage all attendees to wear a mask, however this is not a requirement. This policy is subject to change.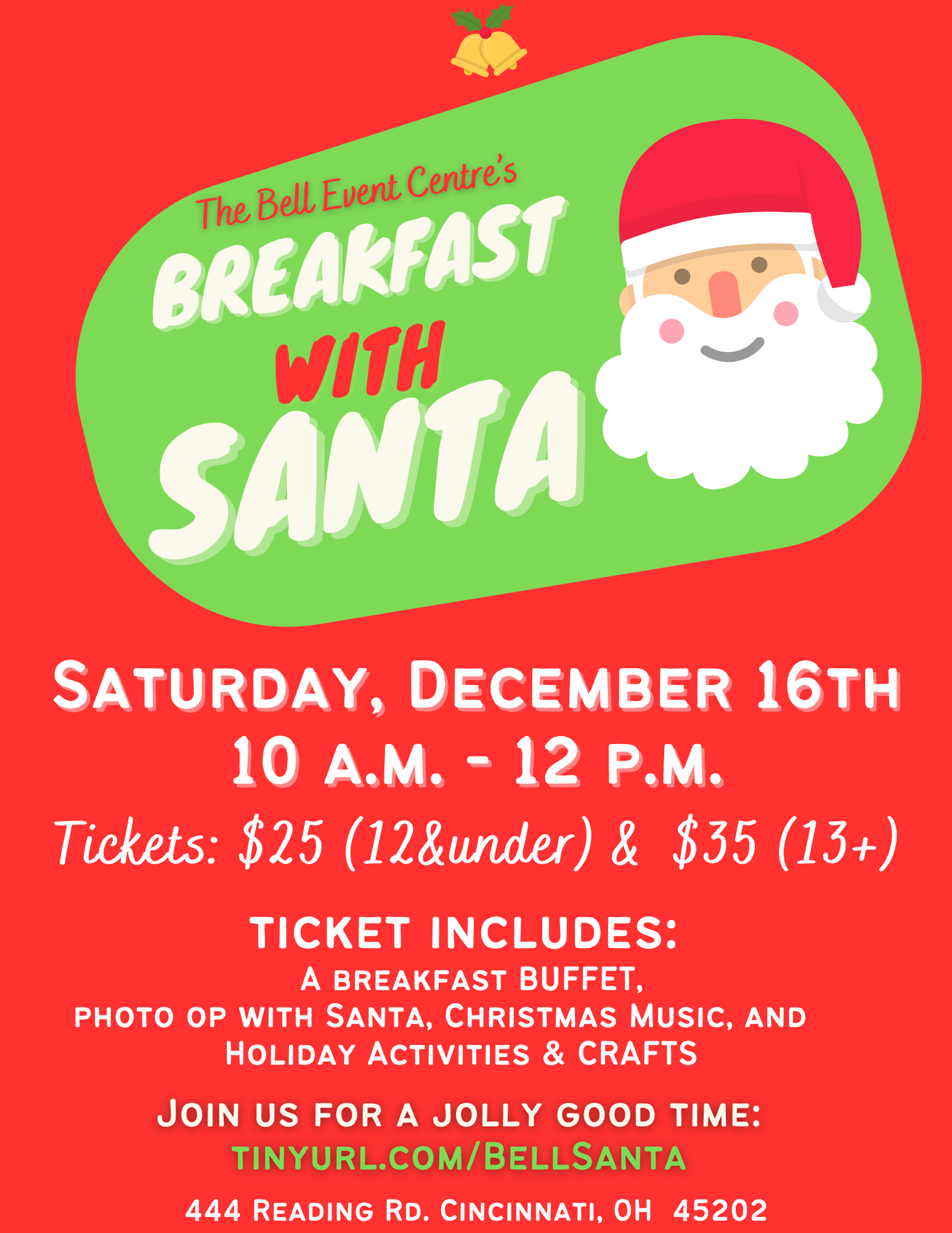 Breakfast With Santa 
Saturday, December 16th
10 a.m. - 12 p.m.
Santa's coming to town! Mark your calendars for 'Breakfast With Santa' on December 16th from 10 a.m. - 12 p.m. at the Bell Event Centre! Feast on a delightful breakfast buffet, strike a pose with Santa in our photo booth, groove to cheerful holiday music, and dive into creative holiday  crafts.
Tickets: $25 for kids 12 & under, $35 for 13+.
Indulge in a variety of delectable options at our buffet stations:
- Fresh  fruit selections
- Fluffy, cheesy scrambled eggs
- Savory sausage links
- Crispy bacon
- Pancakes with guests choice of syrup, fresh fruit, whipped cream, and chocolate chips
- A delightful assortment of doughnuts
- Drinks: coffee, water,  tea, orange & cranberry juices, and a hot chocolate station
Purchase tickets by visiting: https://thebelleventcentre.eventcheckout.com/e/29/breakfast-with-santa
For questions about the event, please email aj@belleventcentre.com or call 513.852.2787.